Stepping out of the shadows of its fellow musical television series Glee, Smash is gearing up to the next big hit.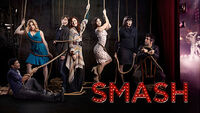 More adult and mature than other current musical offerings, Smash is produced by Steven Spielberg and ventures into the makings of Broadways stars.
Are you excited for its series premiere next week? Watch a sneak preview below!
Ad blocker interference detected!
Wikia is a free-to-use site that makes money from advertising. We have a modified experience for viewers using ad blockers

Wikia is not accessible if you've made further modifications. Remove the custom ad blocker rule(s) and the page will load as expected.