September Song is a song originally performed in Knickerbocker Holiday featured in the episode Previews. The song is sung by Eileen.
When I met a young man courting the girls
I played me a waiting game
I first had refused him with tossing curls
I'd let the old Earth make a couple of whirls
Till he plied me with tears in lieu of pearls
And as time came around he came my way
As time came around, he came

Oh, it's a long long while from May to December
But the days grow short when you reach September
When the autumn weather turns the leaves to flame
One hasn't got time for waiting game

All the days dwindle down to a precious few
September November,
And these few precious days I'll spend with you
These precious days I'll spend with you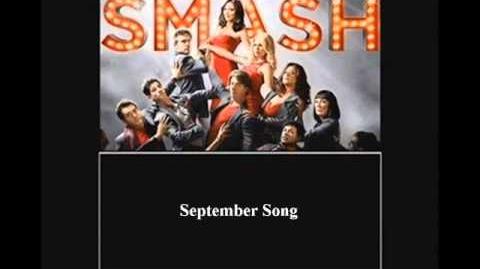 Ad blocker interference detected!
Wikia is a free-to-use site that makes money from advertising. We have a modified experience for viewers using ad blockers

Wikia is not accessible if you've made further modifications. Remove the custom ad blocker rule(s) and the page will load as expected.