Profession
Theatre Producer
Relationships
Julia
(former friend, lover)
Portrayed by
Jesse L. Martin
Scott Nichols is a recurring character on Smash, who made his first appearance in The Fringe. He is a theatre producer whose career was almost ruined by Julia in the past. Scott Nichols is portrayed by Jesse L. Martin.
Season Two

Edit
The Fringe He was in the audience during the Heart Shaped Wreckage performance and he loved it. Showing concern about the show, he asks who the director is, and Derek answers saying that he is. Then he says that he wants to work with them, but Karen tells him that she cannot be part of it because of Bombshell.  
Nichols is watching the performance of Heart Shaped Wreckage with Ana instead of Karen then he calls Derek, Jimmy, and Kyle for a conversation about the future of Hit List. At the meeting in his office, he tells them that he liked the show but feels that it doesn't belong on Broadway. He suggests a stage with 80 seats in the basement. He wants an answer in one week and presses them, warning about meeting with another group. Jimmy and Kyle look fine with it but it makes Derek upset. Nichols gives them one day to make their decision. Scott is at the Café where Derek and Julia are having a conversation. Julia calls him over and he recognizes her but goes on his way. Scott is watching Rewrite This Story, the new musical number that Jimmy and Karen are performing. He loves it and gives them the opportunity to perform at the main auditorium.
Julia is awaiting a call from him. Meanwhile, he notices that Jimmy and Derek constantly disagree with each other. Nichols agrees with Jimmy that Derek's plans are too big for his liking. After Derek insists that he at least hear his thinking about the show. Julia tries talking to him, but he apparently hasn't forgiven her for the falling out at college. Nichols is watching I Heard Your Voice in a Dream, and he and everyone around liked the new simple style that Derek adopted. Once more Julia tries talk to him and apologizes to him for their falling out in the past. He forgives her and says that he feels sorry that she and Frank split up. Nichols and the cast and crew are hanging out together when Ana starts performing If I Were a Boy to call Derek's attention.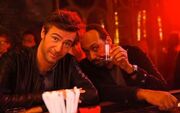 Nichols tells everyone during the rehearsal that they will perform in front of all the board members. Besides Karen performing, he also wants that Ana performing as well. The night of, he is in the ballroom when Karen is performing. Jimmy comes by to ask for money but he declines. Ana is performing Reach For Me, making a good impression on Richard. Richard walks with him and asks what other songs Ana will perform at the show. After seeing that Richard is not happy about Ana just performing once, Nichols says everything can change and she could perform more. Nichols invites Julia for coffee to give her a chance to make it up to him. And he asks for her help and proposes to her to be his show's dramaturg, because the show needs help, not her music, and feel s that she is the best person for it. Julia feels concern about Derek and he says that her doing that she would be for him not Derek.
Ad blocker interference detected!
Wikia is a free-to-use site that makes money from advertising. We have a modified experience for viewers using ad blockers

Wikia is not accessible if you've made further modifications. Remove the custom ad blocker rule(s) and the page will load as expected.